On this week recommendation I have 2 movies.
The first one is a Animated movie with allot of famous voices.
Epic is a fantastic movie about the nature and how should take care for it.
I wanna see this movie, pretty soon!
I don't have seen this movie yet, but I think there is a 'secret' message in the movie.
The second movie I recommend this week, is a comedy movie.
It's the third part from the hangover sequel.
They get back where it all starts: Vegas!
I've seen the first two movies and I wanna see the movie also.
I'll wait until it is released on Blu ray.
Click on the link below to watch the trailers and read the story line from the movies.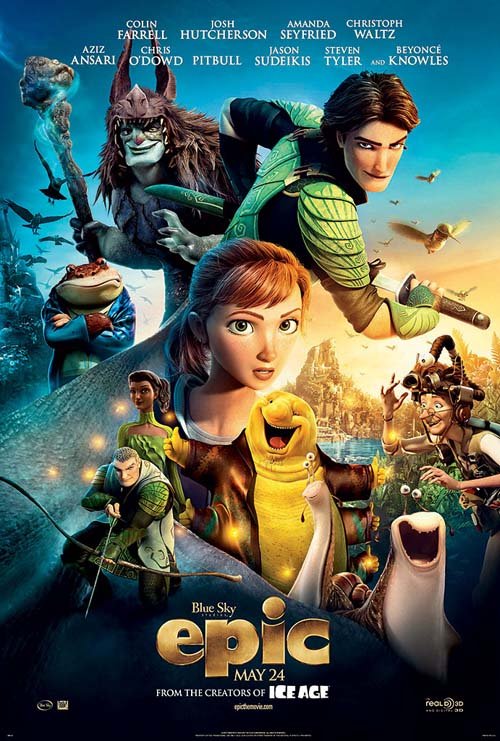 Epic
United States
Animated / Adventure
102 minutes
Directed by Chris Wedge
With the voices from Josh Hutcherson, Amanda Seyfried and Colin Farrell
Tells the story of an ongoing battle deep in the forest between the forces of good and the forces of evil. When a teenage girl (named Mary Katherine) finds herself magically transported into this secret universe, she must band together with a rag-tag team of fun and whimsical characters (the 'Leaf Men') in order to save their world (and ours) from the evil spider Queen Tara.
Verenigde Staten
Animatie / Avontuur
102 minuten
geregisseerd door Chris Wedge
met de stemmen van Josh Hutcherson, Amanda Seyfried en Colin Farrell
Een tienermeisje wordt getransporteerd naar een diepe bosrijke omgeving waar een strijd gaande is tussen de krachten van het goede en de krachten van het kwade. Ze voegt zich bij een groep wezens en samen worden ze belast met de taak om hun wereld te redden, en die van ons.
[youtube=http://youtu.be/W0afRTYtTnQ]
The Hangover Part III
United States
Comedy
100 minutes
Directed by Todd Phillips
with Bradley Cooper, Jamie Chung and Zach Galifianakis
In the aftermath of the death of Alan's father, the wolfpack decide to take Alan to get treated for his mental issues. But things start to go wrong on the way to the hospital as the wolfpack is assaulted and Doug is kidnapped. Now they must find Mr. Chow again in order to surrender him to the gangster who kidnapped Doug in order to save him.
Verenigde Staten
Komedie
100 minuten
geregisseerd door Todd Phillips
met Bradley Cooper, Jamie Chung en Zach Galifianakis
Deze keer is er geen huwelijk. En dus ook geen vrijgezellenfeest. Er kan niets misgaan, toch? Wanneer Alan (Zach Galifianakis) na de dood van zijn vader door een diep dal gaat, is de 'Wolfpack' het enige wat hij nog heeft. Het gezelschap komt samen wanneer ze door een zaak uit het verleden achtervolgd worden. Maar Las Vegas is slechts één van hun stopplaatsen…
[youtube=http://youtu.be/KLAkxSjs8ZY]